The Moral Injury Project at Syracuse University has established a mission to discuss the term moral injury, which is briefly defined as the long-term psychological, emotional, social, behavioral and spiritual impacts that result from military service. These feelings and actions among military personnel are mostly related to their transition to civilian life, judging their moral values and behavioral expectations for themselves and from others.
The steering committee of The Moral Injury Project serves to open a platform for conversation, raising awareness about the many impacts of moral injury endured by the brave men and women who sacrifice themselves for our freedom. We formed in Summer 2014 after a gathering of students, staff, faculty, researchers, writers and chaplains from across campus as well as the larger Syracuse community addressed an important question: What are we doing about moral injury among US military veterans?  Inspired by a visit from Dr. Rita N. Brook of the Soul Repair Center at Texas Brite Divinity School, our goal was to navigate towards an answer to the overarching question about military service and experiences.
Our group is representative of sufferers and survivors of moral injury, and most meaningfully the diversity of mentors who guide veterans throughout their journey. As we practice various disciplines in the arts, faiths and academia, the steering committee embraces the multiple dialogues that speak to moral injury and encourage personal growth. We strive to serve as both activists of our mission, increasing visibility in the community, as well as practitioners, promoting healing and a smooth transition time for veterans.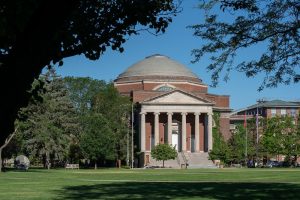 Moral injury thus became an everyday term among our group, formed under Hendricks Chapel and with a secular but welcoming philosophy. Moral injury demands individual answers to individual questions asked by the men and women who hold different faiths, philosophies, and visions of storytelling.
To that end, we have worked to facilitate dialogues between the general public and the veterans and family members who have experienced moral injury. Our events for this academic year are listed above.